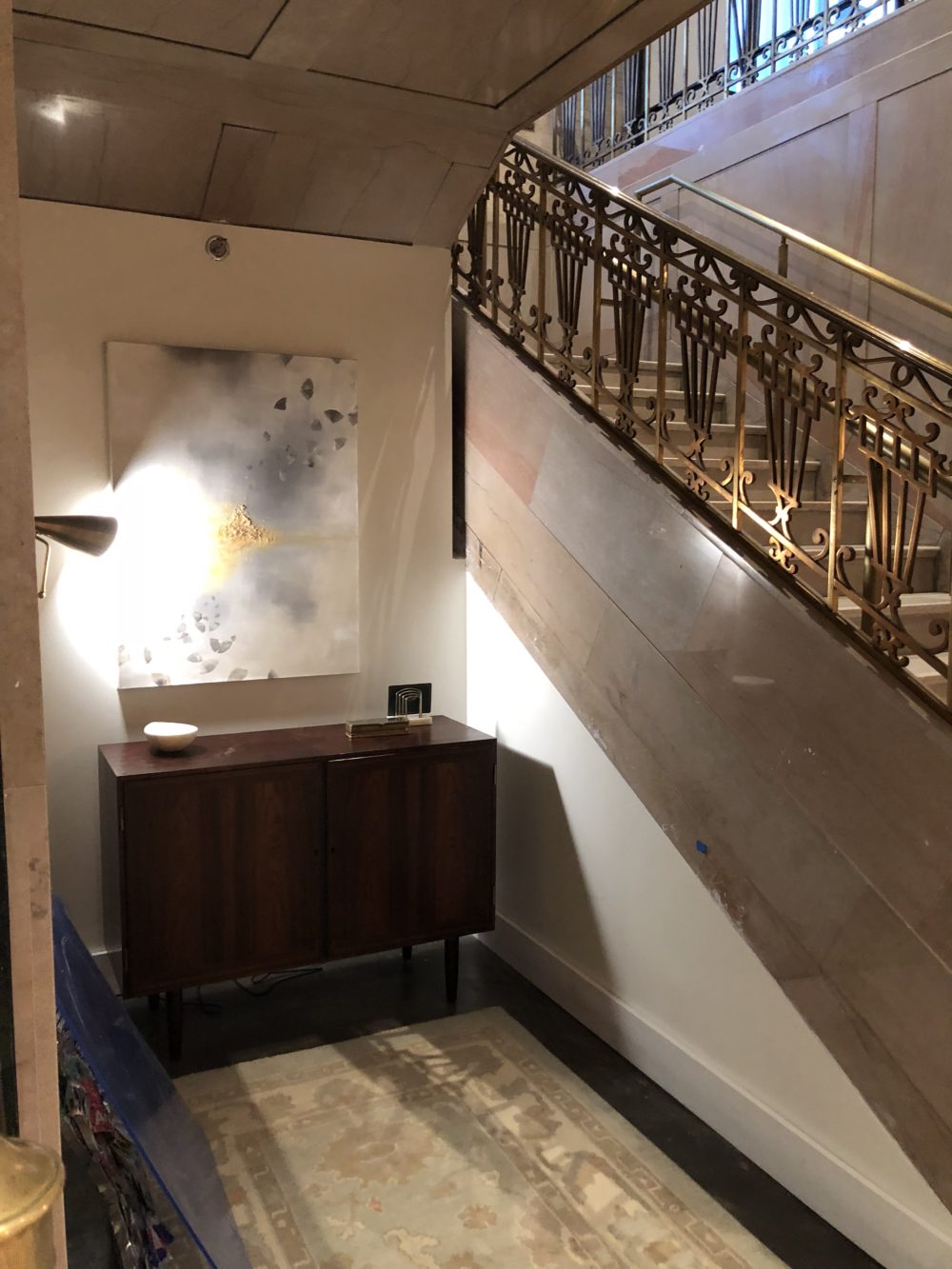 I was so excited to have a piece go into the lobby of Noelle Hotel in downtown Nashville.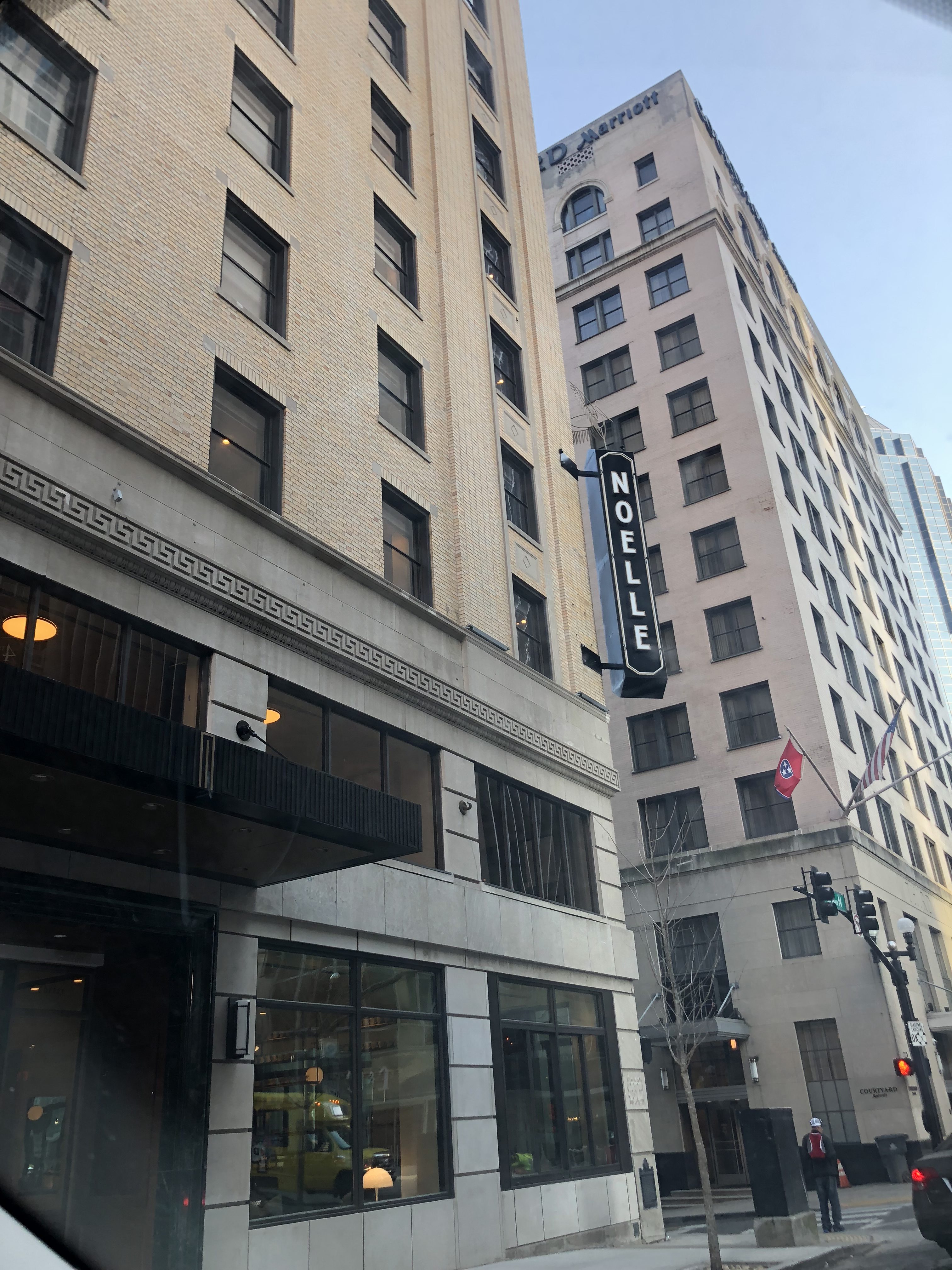 Interior Design Ideas Inspired by Artistic Opulence
This is a guest post by Sophie Logan of Décor Aid
When we first stumbled upon Erin's art, it was easy to see the interior design potential in the brilliant texture and lustrous color palette of each piece, so our designers let their imagination run wild with decorative possibilities. When you find the perfect piece of statement art, sometimes the best choice is to base your room around that piece instead of forcing your artwork to conform to the room.

Because combining interior design and artwork can be a challenge for some, we've provided you with some designer-approved ideas that reference Erin's unique style of artwork and build a fully realized space that coordinates perfectly.

One of the first pieces of artwork that caught our eye was this large gold abstract piece that features tinges of gold and white. The way the strokes of gold catch the light is quite arresting, and we wanted to play with that idea a bit more. Since gold immediately invokes images of luxury and elegance, it was easy to come up with an interior design fit to match.

The first idea that came to mind was to subtly include this gold in your space at a smaller scale, since the artwork has so much of it. Instead of featuring larger-scale items like tables that are adorned in gold, our interior designers suggest instead looking to a fresh take on hardware. No matter the room you're reworking (bedroom, living room, kitchen, dining room, etc.), you're likely to have some element that includes handles, pulls, table legs, or other hardware. You'll want hardware that features the same brass or gold shade that the artwork does to bring balance and opulence to the room.

The textured, layered feel of this piece should influence your fabric, so be sure to choose materials that mirror this. We always recommend velvet, especially when looking to achieve an elegant, luxe aesthetic like the one portrayed in this piece, and a textured velvet in the featured aubergine would be make the perfect addition. Because this is the most subtle shade in the piece, we suggest going large-scale with it, perhaps in a sofa or accent chair, so that it can be easily referenced in the artwork. In addition, our interior designers suggest that you look to other elements that can provide a bit of texture through fabric, like lampshades, rugs, and ottomans.
When we set our sights on the gold leaf moons from the "Many Moons Ago" series, we felt as though these pieces perfectly encompassed Erin's artistic vision and aesthetic. They're whimsical and moody, and their small size equips them with the ability to be used practically anywhere.

The best way to build a space that works with these pieces is to identify the consistent elements among all – for instance, gold, and deep aubergine feature in more than one moon, with lighter grey and champagne shades that add depth. And while you're adding these features that feel elegant and upscale, the somewhat playful nature of the moon itself allows you to have a bit more fun and freedom. Branch out with curved pieces that mimic the circular shape instead of rigid and harsh lines, overlay your colors in a more adventurous way, and keep that whimsical and airy feel present.

Our interior designers first came up with the idea to pair these moons with a taupe wall. Not only is it a neutral that is quite universal, but it's also a shade that can be picked out of the pieces themselves, in the third moon. And since gold is still present, albeit much less than in the first piece of artwork we featured, you can go larger with the inclusion of this color, like a coffee table or nightstand, while still including it in smaller components like hardware or table legs.

Erin was kind enough to stage a space that combines all these ideas so that you can get the full effect of all these design features at play. You'll notice that the moon itself is cleverly placed off-center, which gives a playful feeling of the moon hanging over your bed.

Gold is also used as a unifier in this space. The way the metallic hues in the artwork are referenced throughout the space is apparent in how gold is featured in the bedside table, and the tone of the blanket gives it an elegant feeling that spans the whole room.

You'll also notice that mauve plays a significant role in the layout of this room, with features in the pillowcases, a shag pillow, and the tone of the throw blanket. Additionally, we suggest using small decorative accents, as featured on the nightstand, to play up this shade even further.

The sheen of the black comforter also provides a welcome contrast, especially since the shade of the art itself is actually pretty light. We suggest you choose a dark, contrasting shade like this one to pair with the lighter elements we've suggested, like the taupe wall.

So if you're as inspired by Erin's art as we were, but are contemplating how to best include a work in your home, reference a few of these ideas so that you can decorate with ease.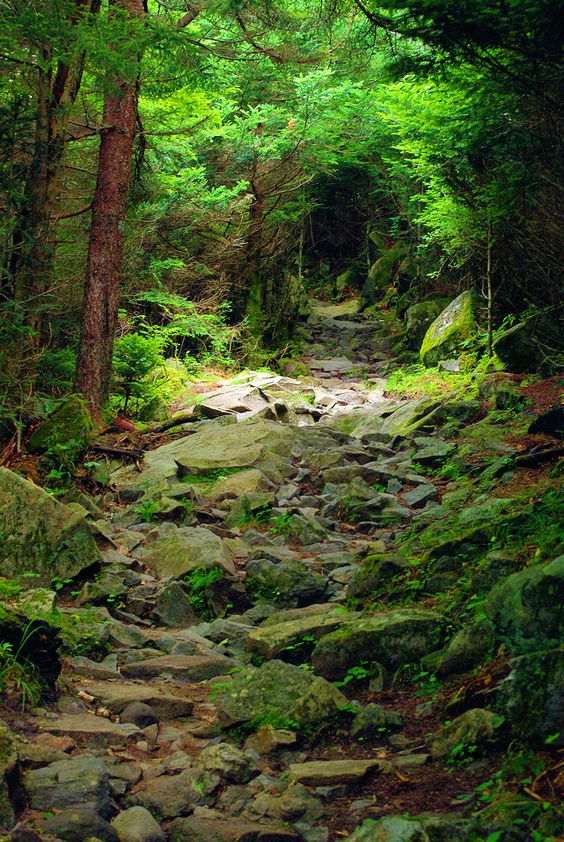 Last week on Nov 23rd, a fire started  in the Smoky Mountains at the north peak of Chimney Top and spread to 17,000 acres and Gatlinburg area.  The fire is believed to be a result of human activity – spurred on by an exceptional drought and high winds.  14 people have lost lives so far, and 1,700 structured damaged.
As a kid, we spent a lot of family trips in the Smoky Mountains in cabins.  My dad kept us actively pursuing the outdoors, which I can appreciate as an adult.
Hiking a portion of the Appalachian Trail is on my bucket list.  I feel so lucky to live close enough to the mountains to spend a weekend connecting with my source through nature and clearing my head.
I'll be sending help through Friends of the Smokies who is taking donations for fire relief efforts – click here if you'd like to also   http://friendsofthesmokies.org/donate/
Last year, I found a gorgeous Smokies photo on Pinterest, and painted it's likeness (Original photographer unknown).  I hope the painting sparks a fire in your heart to donate.
Cheers to you Great Smokies – 36″ x 48″
Original has sold, but I have prints available in any custom size Here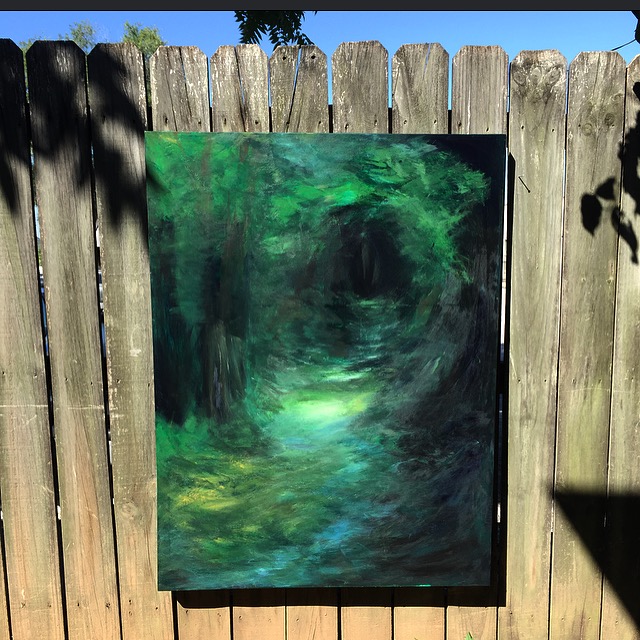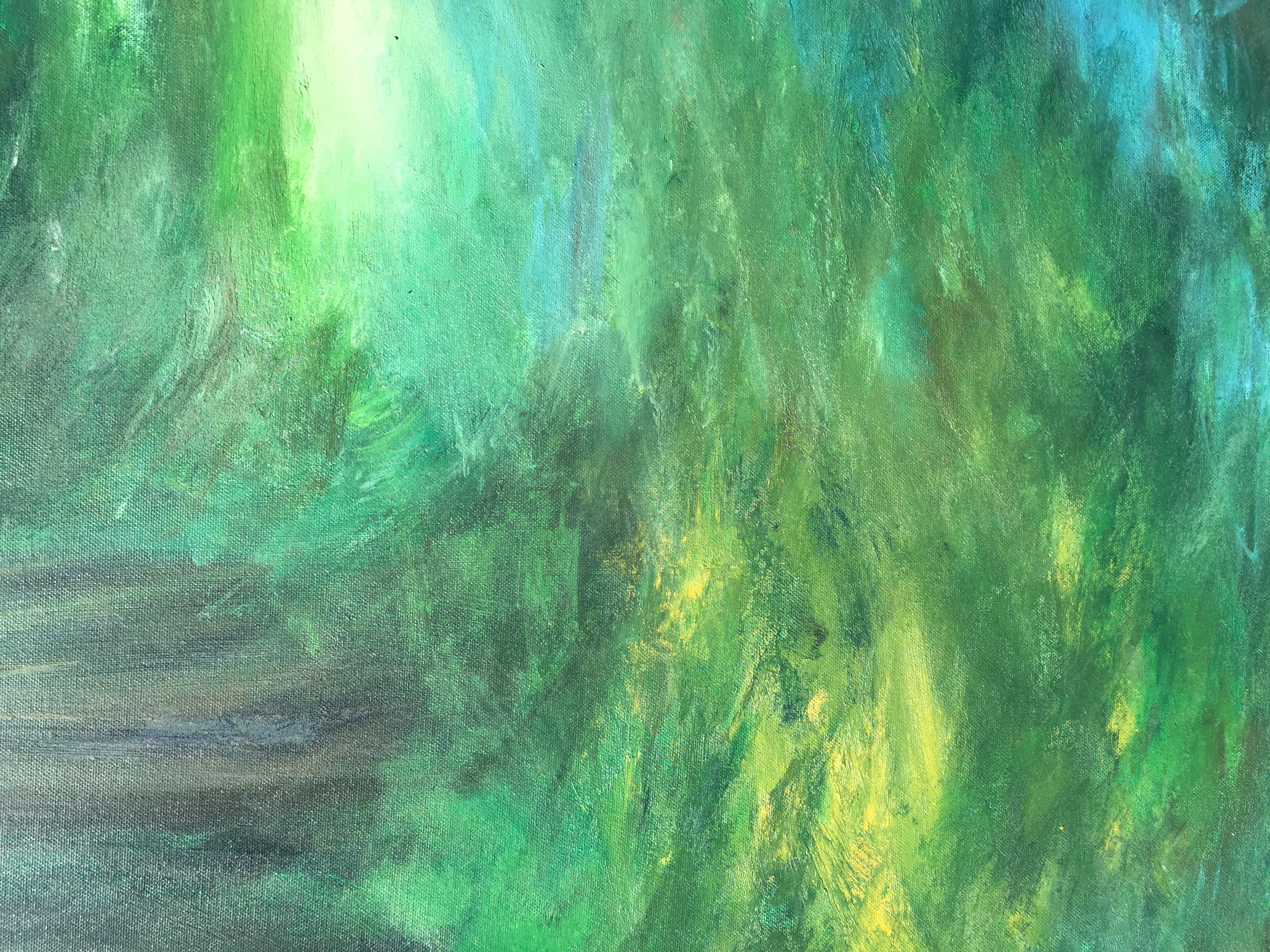 I caught my mutt Brodie having a pouty moment of you-don't-pay-attention-to-me….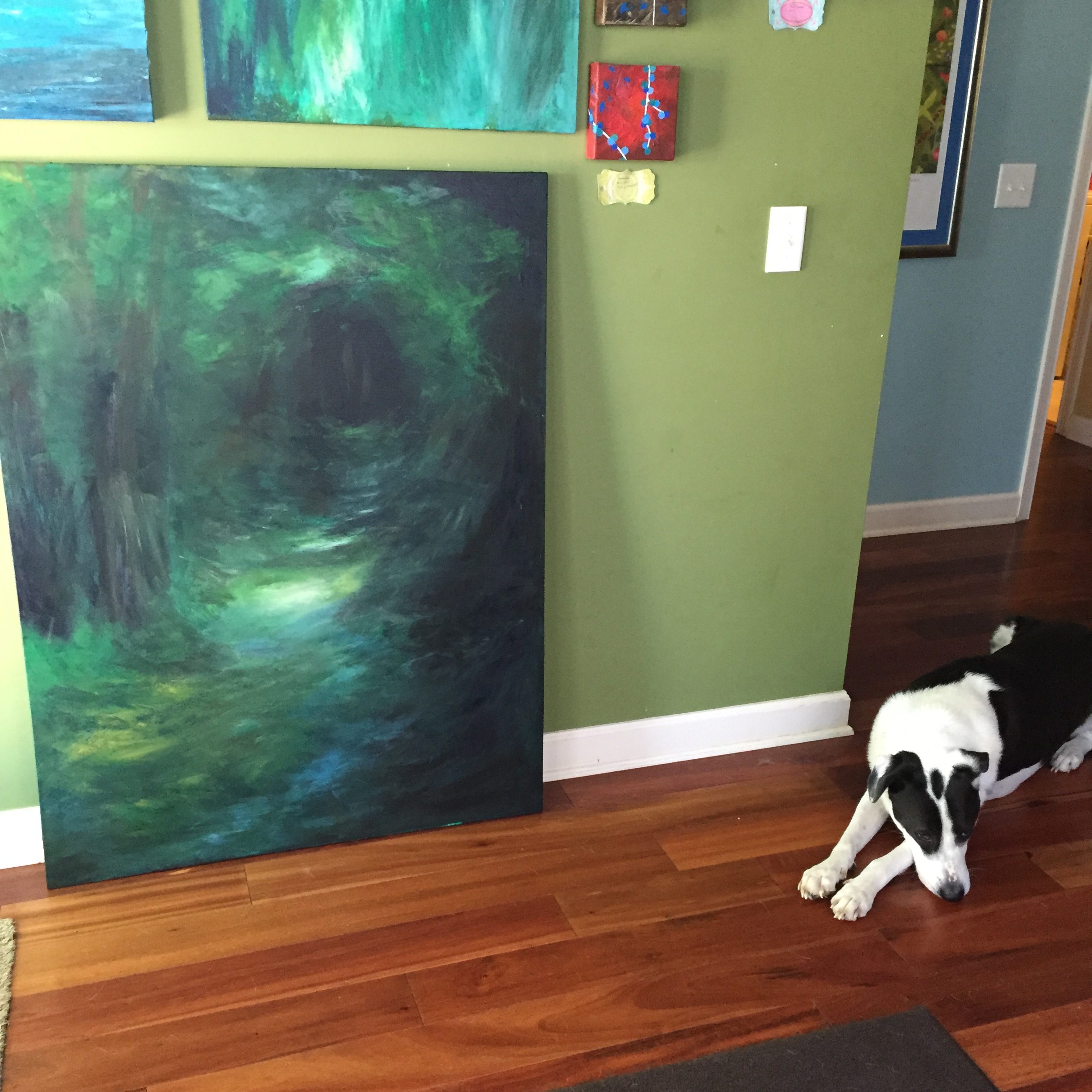 Print of the original painting…